New Artists!
Charles Vess and Karen Shaffer, curators of the Mythic Journeys' Art Exhibition, "Ancient Spirit, Modern Voice," recently announced the addition of two exciting artists, Lorenzo Scott and Viggo Mortensen, to the incredible group of artists whose works are presented in this exhibit.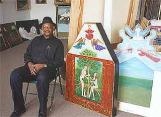 Atlanta area resident Lorenzo Scott has been characterized as a "self- taught genius."  He received the Folk Art Society of America's Award of Distinction in 2002, naming him "Modern Renaissance Painter of Folk Art."   Often called one of the greatest living American visionary artists and painters of religious subjects and African – American children, Scott's work has been exhibited in over 40 American museums and is included in the permanent collections of the Smithsonian Institution's National Museum of American Art in Washington, D.C., the American Museum of Folk Art in New York, and the High Museum of Art in Atlanta.  Mr. Scott taught himself by studying the techniques of Renaissance Italian painters and then experimenting with oil glazing, composition, and balancing color and contrast.  He says, " I try to learn how to do it all. I want to learn how to technique all of it…You know, I got a painting of mine in the Smithsonian.  If you want some religion painting, come see me."


Photographer, poet, artist, publisher, and actor, Viggo Mortensen is currently best known as an actor, having played the part of Aragorn in the Academy Award winning Lord of the Rings, the film version of J.R.R. Tolkien's trilogy, and most recently the role of cowboy Frank T. Hopkins in Hidalgo. Featured in this exhibition are works from Mortensen's "Miyelo" series, evocative, panoramic photographs of the Lakota Sioux Ghost Dance, which he photographed while filming Hidalgo. These photographs record a re – creation of the dance that was originally performed by members of Chief Big Foot's band on December 29, 1890 near Wounded Knee Creek, South Dakota.  The intent was to capture the event as a delirious remembrance, an ephemeral dream. The artist hopes these images might illustrate his belief that regardless of the context of any specific time or place, "We communicate, at best, as outlines and silhouettes to each other: blurry vanishing tracings of what we really see, feel and mean." This is the first time these photographs have been exhibited in the United States outside New York City and Los Angeles.

Ancient Spirit, Modern Voice: the Mythic Journeys Art Exhibition
By Charles Vess and Karen Shaffer
"Myth must be kept alive. The people who can keep it alive are the artists of one kind or another. The function of the artist is the mythologization of the environment and the world." - Joseph Campbell
"Ancient Spirit, Modern Voice: the Mythic Journeys Art Exhibition" will be on display at the Defoor Centre Art Gallery in Atlanta from May 1- June 12, 2004. The exhibit boasts the works of contemporary artists whose imagery draws on universal archetypes that resonate deeply with the human spirit. Over 100 paintings, illustrations, sculptures, prints and photographs showcase varied cultural traditions of myth, story and ritual to tap into a universal language that enriches each of our own "hero's journeys."
The Celtic-influenced art of Mythic Journeys' award-winning conference artist guests Alan Lee ("Lord of the Rings," "The Mabinogion"), Brian and Wendy Froud ("Labyrinth," "Dark Crystal"), and Charles Vess ("Book of Ballads and Sagas," "Midsummer Night's Dream") will be featured. Three other conference guests, Terri Windling, Virginia Lee, and Meinrad Craighead explore spiritual transformation with their evocative imagery. There will be a special installation piece by Stu Jenks at the entrance to the show that will enhance the gallery experience.
Others artists from Canada and across the USA re-interpret ancient myth into personal interstitial visions with swirling color, inspired light, insight and humor. Alongside these, exciting works from the Southern African American Vernacular, Australian Aboriginal, Japanese, Native North American, and Central American cultures will be on display.
The DeFoor Centre contains a 5,250 square foot octagon art gallery with a cathedral ceiling. There is also the Book Market, which will be selling books and prints of the "Ancient Spirit, Modern Voice" artists, plus a full-color catalog of the show (available after April 15). This is a prime educational opportunity for school groups, families, or for any organization's outing.
Exhibition Dates: May 1 - June 12, 2004 Opening Public Reception:Saturday, May 8th at 7 p.m.
---
Mythic Journeys Conference Guests'
Private Gala Reception: TBA
DeFoor Art Centre
1710 DeFoor Avenue, Atlanta 30318
404-591-3900
Hours: 10 am - 5:30 pm Monday-Saturday
DeFoor Center Gallery
---
Free shuttles will run during the Mythic Journeys Conference between the downtown Hyatt and the Defoor Centre on a regular basis with various attending artists accompanying some of the Magical Mythical Tours!
For more information or to register, visit www.mythicjourneys.org or call 404-832-4127.
"There is something at work in mythic art that goes beyond even the skill of the artist. It's almost as though artists are tapping into something true and universal, something that links us all. As the late scholar Joseph Campbell, poets like Coleman Barks and Robert Bly, and psychologists like James Hillman show us, mythic art and design communicates something essential in a powerful and enriching way."
---
Artist Spotlights For May, 2004
"Framed," bronze. Photo credit: Wendy McEahern

Roxanne Swentzell, is a Santa Clara sculptor and traditional native artist who is currently producing a bronze installation piece for the new Museum of Native American Art in Washington, DC, which opens in the fall of 2004. Her emotionally charged clay figures have been showcased in the Smithsonian, the White House, and museums throughout the world.
---
"Merlin," pencil.
Alan is one of the most acclaimed book illustrators in England and America today, a winner of the Kate Greenaway Medal and other honors. His many fine books include Faeries (with Brian Froud), The Mabinogion, Black Ships Before Troy, The Wanderings of Odysseus, and a lavishly produced anniversary edition of J.R.R. Tolkien's The Lord of the Rings. More recently, Alan was the principal designer/art-director for the three "Lord of the Rings" films. He is also a landscape painter and an avid reader of myth and mythic literature. His watercolor paintings, drawings, and prints have been exhibited in museums and galleries around the world.
---
"The Path of the Shapeshifter," watercolor.

The visionary art of Helena Nelson-Reed involves Native American and mythopoeic themes. Swirling watercolors portray a visionary world focused on positive, feminine archetypal imagery. She is an American painter who has long been fascinated by art, myth, fairy tales, legends and mysticism, as well as by cultures, religions, spiritual paths and societies different from her own.
---
"Path to Wirikuta," anonymous Huichol artist, yarn, beeswax and board.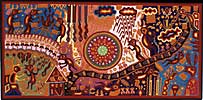 Huichol and Tepehuano yarn painting is a traditional, artistic technique that is used for recording dreams, visions, myths, and the innermost personal prayers of these Central American people. Multi-colored yard is imbedded onto a wooden board covered in sun-warmed wax. Common images depicted in these works include various gods, goddesses, magic animals, ceremonies, sacred objects and legends important to them. It is a meticulous and time-consuming art form that may be a successor to the feather-working techniques of their ancestors, the Aztecs.
---
"The Gift," pencil and watercolor.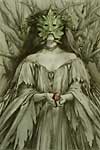 Brian is an English painter who has spent his life exploring the folk tales and faery lore of his native land. His internationally best selling books include Faeries (with Alan Lee), Good Faeries/Bad Faeries, Lady Cottington's Fairy Album, and The Runes of Elfland. He also designed two feature films for director Jim Henson: The Dark Crystal and Labyrinth.
---
"Catalina State Park, AZ," photograph.

Spirals, circles, and sacred spaces are the subjects Stu explores in a range of photographs and art installations, telling stories with light and time and land instead of with words. The imagery he presents to the viewer is provocative and mysterious, encouraging the viewers to find their own meanings in his circles and spirals and columns of light. He's an artist who interacts with the world around him, rather than imposing his vision upon it.
---
"Ancient Spirit, Modern Voice" Artists:
Painters:
"Myths are the eternal truths hidden within the heart of the stories we hear, read and see - and in the work of visual artists. Their wisdom guides us to meaning, mental health and even conflict resolution…people seem to respond to these mythic images on a level that transcends mere entertainment. Why? That is a question explored in this art exhibition."
"Ancient Spirit, Modern Voice: the Mythic Journeys Art Exhibition"
Curated by Karen Shaffer and Charles Vess
Well-Favored Links
In each issue of Mythic Passages, we'll share a few of our favorite links on the World Wide Web. We hope these resources help you with your own Mythic Journey. Do you have any suggestions for interesting links you've discovered? Let us know at info@mythicjourneys.org. We'd love nothing better than to pass along the riches.
Duirwaigh Gallery is one of our vendors who will be carrying prints of some amazing prints at the conference.  This is a stunning musical tour of their artists.
Africa's Undiscovered Myths: Images from Endanged Cultures
by Janis Miglavs
(Part of the Blue Earth Alliance) Spring 2004 Exhibition Washington State Convention
and Trade Center
Level 2 Galleria Space
Seattle, WA
April 10 - June 24
Free Admission
The Ceramic Masks of Peggy Bjerkan

Story Corp has a booth set up in Grand Central Station where two people can interview each other.  The interview is recorded, and the couple receives a copy of the disk.  The other copy is put in an archive.
---