The Hero's Journey: Joseph Campbell on His Life and Work.
By Joseph Campbell
Centennial Edition.
Edited with Introduction by Phil Cousineau.
Novato, California: New World Library, 2003.
Pp. 249. $24.95, cloth.
Reviewed by Dennis Patrick Slattery
Some books have their day in the sun and on bookshelves and then fade into the out-of-print abyss. Others have a sustained stamina because they continue to speak to new audiences. Such is the case with this beautifully-crafted edition of The Hero's Journey originally published in 1990 but released with a very insightful foreword by Stuart Brown and a fine overview of Campbell's thought in Phil Cousineau's introduction. In some important ways, this text might even be a better portal into Joseph Campbell's work than The Power of Myth with Bill Moyers, for I believe it is more wide ranging on the life of the man and the methodology of mythic thinking.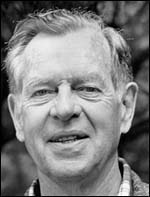 Published along with an entire series of titles by New World Library and the Joseph Campbell Foundation in Novato, California in time for the 2004 centennial of Campbell's birth (1904-1987), this book allowed me to grasp, perhaps for the first time, the wide range and extent of Campbell's learning that includes literature, art, philosophy, psychology, archeology, eastern and oriental cultural history, dance and painting. At one point in his young life, he relates in a story, he retired to the woods to a cabin and read for nine hours a day for five years. Part of his genius, the reader sees in group gatherings with Campbell, is that he seems to have forgotten nothing of what he read. More importantly, the Hero's Journey that put him on the mythic map in the popular imagination is in effect his own life's journey mythologized through the lens of related world mythologies. His individual life and work mirrors his most famous opus on the place of the heroic within a universal monomyth: The Hero With a Thousand Faces (1949) which is still the best selling book in the entire Bollingen series.
Arranged according to themes, but primarily consisting of interviews and seminars conducted by Campbell, or with his work as the central theme, The Hero's Journey delineates, for example, "The Call to Adventure," "The Road of Trials," "The Vision Quest," "The Meeting with the Goddess," "The Master of Two Worlds," "The Tiger and the Goat" to name several headings. I liked especially the list of all works by Campbell as well as a rich and varied bibliography of related topics of interest.
It is astonishing to learn in reading these pages, how widely Campbell's work influenced the cultures of music (The Grateful Dead), dance (Jean Erdmann), film (Lucas, Spielberg), as well as the personal lives of millions of individuals and thousands of students he taught at Sarah Lawrence College for 38 years. It was in that classroom setting of women, he says in more than one place in this book, that he learned from his students: the material of mythology must have some personal relevance to their lived lives, or it is essentially meaningless. From them Campbell decided to inflect his writings and research not to scholars in academe but to an intelligent readership that wanted to pursue the meaning of their own lives and to see their lives mirrored in the world's great stories..
Repetitious in places, nonetheless, this volume is a primer of the essential tenets of mythology for the reader coming to Campbell for the first time. For example, a constant with Campbell is his belief that "the function of myth is to put man in accord with nature….The function of art is to bring out the grand lines of nature" so the possible accord can become more evident. Another motif of his work: "Mythology opens the world so that it becomes transparent to something that is beyond speech, beyond words, in short, to what we call transcendence." A third tenet: myths are not to be read literally/historically but imaginally and metaphorically. As soon as myths concretize into literalism, they move from mythology to ideology and their vital life passes from them. A fourth axiom in his belief system: "the advantage of being mythologically indoctrinated….[is that] you know where you are when these stories take place." In other words, myths are centering forces or energies that ground and organize our being and can lead to a fuller sense of self. A fifth axiom: Mythology is a function of biology; myths grow from the energies of the organs of the body in conflict with one another. A sixth axiom: mythology takes us out of ourselves, out of our egocentric lives and places us within reach of something beyond us, that includes but extends us. Our primary myth today, Campbell ends by arguing, must be planetary, global, and not a retreat into vested interest groups.
Few writers and teachers have carried the passion of the subject matter with the ease and grace of learning as has Joseph Campbell. His work is an embodied eye witness of a human being who indeed followed his own bliss and in the process encouraged each of us to do the same. Reading his lively observations and quick-witted, often humorous responses to a variety of people in a vast array of disciplines, will allow the reader to feel the heated energy of a joyfully engaged consciousness who never tired of seeking the mysteries that lie silent, expectant, behind the myths.
---
Dennis Patrick Slattery is Core Faculty in Mythological Studies at Pacifica Graduate Institute. His most recent work is Psychology at the Threshold, co-edited with Lionel Corbett. He is a Mythic Journeys guest speaker.
---
1 2 3 4 5 6 7 8 9 10 11 12 Next: Myth and Poetry
© copyright 2004, Mythic Imagination Institute