Remembering Joseph Campbell
---
The Mythic Journeys Conference/ Performance Festival and its Art Exhibition, "Ancient Spirit, Modern Voice," honor and celebrate the life and works of Joseph Campbell (1904 – 1987), the great authority on mythology, in this Joseph Campbell Centennial year.
---
Preface to the Centennial Edition of The Hero's Journey: Joseph Campbell On His Life and Work
edited by Phil Cousineau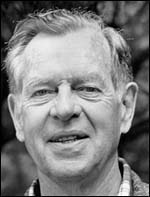 ---
Phil Cousineau is the co- writer and associate producer of the award – winning film The Hero's Journey: The Life and Work of Joseph Campbell.  He is  the author of many  books, including Once and Future Myths: The Power of Ancient Stories in Modern Times; The Art of Pilgrimage; and The Olympic Odyssey.  Phil Cousineau is also a presenter at the Mythic Journeys Conference/Performance Festival.

Following are Phil Cousineau's recollections of his mentor and friend, Joseph Campbell, quoted with permission of the author.
---
Late one night, in the spring of 1987, I sat with Joseph Campbell on the lanai of his condominium in Honolulu, Hawaii, overlooking the Pacific Ocean. Campbell was in rare form, telling old Irish jokes, outlining his plans for the next five books he wanted to write, and speaking animatedly over and over again about The Hero's Journey, which he and his wife, Jean Erdman, had just watched for the first time. Together with Stuart Brown, the executive producer of the film, I had brought the film to Hawaii to screen for them and get their final approval before we officially released it.

"It's marvelous, just marvelous," I remember him saying, as moonlight flickered on the sea below and warm breezes fluttered in the palm fronds. I asked him if he was surprised by the tributes he had received in the film by such people as filmmaker George Lucas, psychologist James Hillman, and novelist Richard Adams.

"I couldn't be more pleased," he said. "You know, I didn't write my books for critics and scholars. I wrote them for students and artists. When I hear how much my work has meant to them - well, I can't tell you how happy it makes me. That means that this great stuff of myth, which I have been so privileged to work with, will be kept alive for a whole new generation. That's the function of the artist, you know, to reinterpret the old stories and make them come alive again, in poetry, painting, and now movies."

Campbell paused, took a sip from his glass of Glenlivet, and then said directly to me in a way I will never forget, while clinking glasses with me, "That's why it's important for you to keep doing what you're doing and make this work your own."

This was a reference to an ongoing discussion we had had for years about the classes I had been co-teaching with fellow screenwriters, such as Thomas Schlesinger, Keith Cunningham, Christopher Vogler, and Richard Beban, called "Myth, Dream, and the Movies." My friends and I had been inspired to use his model of the hero's journey to better understand the archetypal and dreamlike structure of movies. Admittedly, I was nervous the first time I shared my notes and my drawings of the "great wheel" of the hero's journey in myth and movies, but he was the personification of enthusiasm. In the tradition of great mentors, he immediately gave me the courage of my convictions to carry on with the work wherever it may lead.

"Oh, I think it's wonderful," he had said. "This is all I ever wanted - to help students and artists see myth as a reflection of the one sublime adventure of life, and then to breathe new life into it."

Later that same year, in October 1987, Campbell died, at age 83. Not long after, the sales of his books and videotapes skyrocketed and his name became synonymous with mythology. Our film The Hero's Journey was released to great acclaim and I was called upon to screen it in dozens of venues all over the country and in Europe. One evening, I showed it to a standing room audience at the Open Center, in New York, with his wife, Jean, seated in the front row. Afterward, I asked what she thought Joe would have said about his sudden mass culture popularity. She replied with a twinkle in her eye, "I'm sure he would have said that we would have to move to Bora Bora because all the phone calls and letters would have interfered with his work!"

Since the first publication of this book, in 1990, I have received letters from virtually all over the world, from people of every imaginable walk of life. If there is a common thread among them, it is the desire to express gratitude to Joe Campbell for helping them discover the journey they are on in life. I heard from a housepainter in Michigan who said the model of the hero's journey helped him see every new project as an adventure. A sculptor from New York wrote to tell me that he had been reminded about the "eternal radiance of mythic forms." A man from Folsom Prison, in California, wrote to say that he now felt far less alone in the "labyrinth of his journey." A former NFL football player attended one of my workshops and said he used the model to help convince ex-athletes that there is more than one journey, that life keeps revolving, if you know how to change your story. A Silicon Valley consultant sent me a diagram he had made, adapting the hero's journey for people in the business world, saying it helped them see a beginning, a middle, and an end in every business deal. A doctor from São Paulo, Brazil, e-mailed me to say that he reread the book several times because it helped him find meaning in the work he was doing in the barrios.

There have also been countless well-known people who have contacted me, like Mike Pinder, founder of the rock group The Moody Blues, who said Campbell's work persuaded him to donate the rest of his life to bringing myths and music to young people. Lionel Poilâne, the legendary baker in Paris, told me he had learned about the importance of emphasizing the origins of bread in his interviews after reading Campbell. After one of my lectures at UCLA, My Haley, the widow of Alex Haley, approached me to quietly let me know that Campbell's work had been a major reason why her husband had taken the long journey by ship back to Africa to research Roots. Architect Anthony Lawlor wrote to me that Campbell's writing reminded him of his passion for design that redefines sanctuary in our uncertain times. The cosmologist Brian Swimme told me that he thought Campbell was the "psychic equivalent of the genome project...that every thinking person has to come to grips with this amazing truth: we now have all the ancient, deep codes in our hands. Now what will we do with such inconceivable power?" An ex-priest on the Aran Islands, named Dara Malloy, told me Campbell's work gave him the impetus to demythologize the Christianity he had inherited and to suggest a more appropriate mythology, for our time, based on ancient Celtic teachings. The songwriter R. B. Morris told me backstage in Knoxville, Tennessee, that Campbell's work persuaded him to hold on to the great myths of his early life - from Appalachian tales to James Agee - and allow them to grow within his own music. And then there was Reuben Snake, the powerful Winnebago medicine man, who told me that Campbell's books and films were now being used by the elders in many Native American schools to help revive interest in Indian mythology.

Surely, this response would have warmed the cockles of his Irish heart, as would the re-release of The Hero's Journey for what would have been his hundredth birthday in 2004. If it's true, as poet John Donne said, that "death is an ascent to a better library," I believe Joe Campbell is enjoying eternity by reading from the inexhaustible book of myth.

Phil Cousineau
San Francisco
March 2003

The Preface to the Centennial Edition is copyrighted and appears here with the permission of the author and may not be reproduced without permission.
Remembering Joseph Campbell
by Phillip DePoy
---
Atlanta author and playwright Phillip DePoy also shares his remembrance of Joseph Campbell from a brief but memorable meeting in Atlanta. Between the late 1970's and 2004, Phillip DePoy has found many stories to tell.  DePoy is an award winning Atlanta author, playwright, and musician who has written seven published books, two published plays, musical compositions, and thirty – seven theatre pieces that have been produced in Atlanta and throughout the country.  He is also a theatrical director and teaches theatre at Georgia State University.
---
In 1978 or 1979 Joseph Campbell came to speak at Peachtree Presbyterian Church in Atlanta and I had a sort of Zen – master experience with him.  I was working on a performance piece at the time concerning world creation mythology.  Research for the piece had consisted mainly of rereading Campbell's The Masks of God books to which I had been introduced ten years earlier as a folklore undergraduate.  Besides attending the lecture, I heard that Joseph Campbell was holding a more informal session afterward and it might be possible to meet with him briefly face to face.  When I inquired about the after – meeting I was told that he would prefer to meet with artists currently working on projects.  "That's me," I said.  "I'm working on a performance piece about a man who catches a fish, eats it, and has a dream about the sea." Without much comment on the genius of my concept, my name was entered onto the list of the chosen.

Campbell's lecture was brilliant, despite the fact that the large room was packed and the fluorescent lighting gave everything the haze of a shopping mall's interior.  Campbell showed slides, talked; told stories to a rapt and silent crowd.  He concluded, was swamped by hundreds, and it was more than an hour later before I found myself in a smaller fellowship hall in the church along with thirty – or – so other local artists.  Campbell was seated in a chair, legs crossed, leaning back a little.  His tie was only slightly loosened, his tweedy coat unbuttoned, his hand on one of the outside pockets.  There was a great discussion with a dancer about the metaphysics of movement and the question of telling the "dancer from the dance."  (The only time he fully smiled was when he mentioned that his wife was a dancer.)

After a while Campbell looked around the room and said "Who's the one writing about the fish dream?" I sort of raised my hand.  "Tell me about it," he said. I explained it was a very non – religious story of the creation:  we see a man at a dinner table.  He's eating a piece of fish.  He turns his water into wine.  He leans back in his chair and the lights come up on center stage.  Live music brings on dancers in masks, each one representing a separate creative urge, a number of lines refer to Heisenberg, and then the man wakes up with a start at his table.  He explains, apologetically, to the audience that the dream he's just had wasn't his own, it belonged to the fish.

Campbell nodded very politely and said, "It's a very Catholic idea.  The fish communion, I mean.  Is that the story you want to tell?"

In a single second I was shocked into the recognition of the eucharistic elements of the piece.  It completely altered what the work was about.  All I could say out loud was, "Catholic?"  Thank God the discussion moved on to other artists' work, though I don't remember a word of it.  I was busy rewriting the piece over and over in my head.

Some time during the process of almost everything I've done since then, I hear a voice in my head asking me, "Is that the story you want to tell?"

Phillip DePoy, 2004