Programming Report
Mythic Journeys Mythic Epic Programming Proceeds!!!
There are over 140 speakers and performers coming to Mythic Journeys. The richness, indeed, splendor of the offerings will be a joy to those who attend and a puzzle of intricate, death-defying feats of scheduling for the programmers.
We herewith announce, THE SCHEDULE coming to a Mythic Journeys website near you.
Every day at Mythic Journeys starts with small participatory activities from tai chi with world-renowned teachers, like Allen Pittman, ecstatic dance, dream sharing with several Jungian analysts, and of course, coffee drinking with Krispy Kreme doughnuts.
At 9 am, we all move into one room because someone is going to tell us a story—that would be Michael Meade! Caitlin Matthews! Ulla Suokko! And a huge production of The Hero's Journey by the Kennesaw State Players.  I knock myself out when I think about this.
Anyway, the stories help to set up the theme of the day.  For Thursday that is Creation, Friday: Metamorphosis, Saturday: Yang, Sunday: Yin. 
We then break up into workshops and presentations—get a load of this—Pulitzer Prize winning poet Galway Kinnell or Peter Beagle and Guy Gavriel Kay.  Hey, that's just Thursday morning.  While they are doing that, there are only nine other things to choose from including Robert Bly telling The White Bear King or Wendy Doniger speaking on Magic Rings.
OK, it's 2 o'clock, you've had more doughnuts for lunch and are ready for The Big Conversations, where, for instance on Friday, Joyce Carol Oates, Eddie Gamarra, Bradd Shore and Tim Renick discuss Cloning, Techno-totemism and the Double.  Real life thrills and horror!
The afternoon expands into workshops and presentations, where on Saturday for instance, you could do a workshop with Matthew Fox on The Reinvention of Work, or watch a one man show about C.S. Lewis with Tom Key, hear Alan Lee, the Oscar winning designer and illustrator of Tolkien's work, show and speak about his art.
Sunday, we gather our forces for renewal and return, working with imagery of redemption, new creation, and inner strength in carrying the insights and experiences we've received, so that they can emerge into our work in the world.
Robin and Stephen Larsen, Marion Woodman and Guy Corneau will talk together about Union, James Hillman, Chief Jake Swamp and James Flannery will talk on Tikkun Olam, Healing the World, and Scott Livengood (CEO of Krispy Kreme, would I kid you?) Betty Sue Flowers, Carol Pearson and Parker Johnson will discuss Money as a Mystery School.
We haven't talked about the nights—ah, Night—the envelope of darkness in which we see the light.  The aforementioned Parker Johnson is bringing his rock opera, The Ladder, actress Shelley Mitchell (go to her website, you'll start to see what the fuss is about) is performing her acclaimed show Talking with Angels, Cosy Sheridan is doing her song cycle story Pomegranate, which apparently includes a long ride on the Harley for ol' Persephone and the King of the Dead.
The thing is, I'm only getting started.  There are over 140 scholars, artists, performers, mythologists, anthropologists, storytellers, ritualists and who knows who else who will be presenting and hanging out.
So what do I know? My friends, I am the one who is officially trying to schedule this circus extravaganza.  Bill Bridges, Ari Berk, Michael Karlin and I, along with any unsuspecting innocent we could rope into helping, have been trying to "wrastle" this thing into a workable shape.  The running themes give us some underlying coherence, but the nature of the event is exuberance.  Each of you will have a unique journey that you can choreograph to your own needs and inclinations.
Go to the website for the schedule.  I might suggest printing it out so you can study it a bit.  We are here to  help you.  If you aren't so inclined toward computer information, please call us at 404 832 4127 and someone will be glad to assist.
Seriously, folks.  You could attend this event purely as a performance festival, with music, live performance and film almost 24 hours each day.  You can fulfill your psychology CEUs in workshops and discussions with some of the greatest hearts and minds in the field.  You could listen to folkloric scholars, or even make a full program of mythology in business and politics.  There is a whole palate of taste, to sustain or mix-up.  Our world is being over-run by literalism and materialism.  Here there is food for every level of being.
Come on down.

Honora Foah
Creative Director

---
Be sure to take a look at the Web site for a complete list of participants. We'll update it regularly!
---
Mythic Journeys T-shirts Are Available Now!
Amaze your friends, demoralize your foes, and be the envy of all the other kids on your block and all the surrounding blocks in your new Mythic Journeys or Mythic Imagination t-shirts.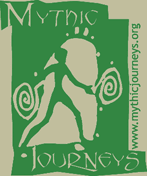 That's right, you can make a powerful fashion statement and support the Mythic Imagination Institute at the same time. These high-quality garments, featuring our logos printed on 100% heavy cotton T-shirts, are available in small, medium, large, XL, and XXL, and feature our logos printed on The Mythic Journeys shirts feature the logo (above) in hunter green on a beige parchment colored shirt. The Mythic Imagination shirt is available in white with a blue logo (below) or denim blue with a white logo.
The white Mythic Imagination shirt is also available in XXXL.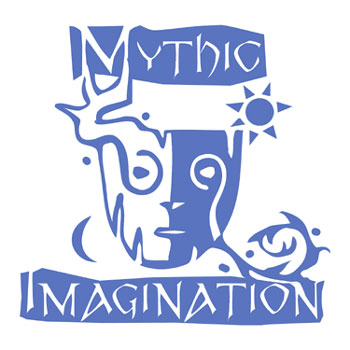 $15.00 (Includes shipping within the United States. For international shipping, please add $5.00).
Click here to order online using PayPal.
To order by check, please send your payment to:
Mythic Imagination
P. O. Box 669817
Marietta, Georgia 30066-0114
Be sure to let us know which shirt or shirts you want, the sizes, and the shipping information!