Produced by Dahna Barnett
Engineered by Brad Barnett and Creative Digital Group
Theme music (Tallman Dub) by Geoffrey Armes
---
November, 2005

Praise and Thanksgiving


28MB - 41 minutes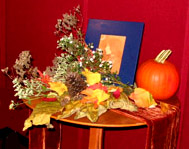 Join Honora Foah, Andrew Greenberg, Brenda Sutton, anthropologist Dr. Bradd Shore, Mary Beth Kirchner, concert pianist Daniel Schene, and Chief Jake Swamp in conversation and reflection about how and why we are grateful; on the individual, cultural and family rituals we express at Thanksgiving.
Accompanying the podcast in this month's Mythic Passages e-newsletter, we've included transcriptions of Mary Beth Kirchner's interview with Emory University professor and anthropologist Dr. Bradd Shore on Thanksgiving Traditions (from the PRI/NPR radio documentary on Mythic Journeys '04), Chief Jake Swamp's offering of blessing and gratitude that opened MJ '04, and the "World's Best Lasagna" recipe.
Family Ritual
Cultural Ritual
Thanksgiving Traditions
Orphan's Thanksgiving
Native American Thanksgiving and Gratitude
Football and other "Homecomings"
European Traveling Thanksgivings
Debussey Interlude
Iroqois Prayer
Mythic's Volunteers
Chief Jake Swamp gives great thanks!
---