Reverent Generosity
Originally written for Inferential Focus by Jerry Wennstrom
© 2007, reprinted with permission
[Image: "Old Man" © Steve Bingham, Southwest Images, Inc., used by permission]
I live on Whidbey Island, Washington and, as often happens in the winter, several months ago a windstorm knocked out the power for a good part of our island. A friend living in Seattle offered my wife and me her "spare" condominium in Seattle on Queen Ann Hill, a nicer part of town. Overlooking the city and a beautiful stretch of the Puget Sound, the condominium is quite beautifully situated. I had a writing deadline, so I took her up on her offer to continue my writing project with the luxury of power for my computer, warmth, and light. I was happy to be staying at such a nice place in Seattle, and got up early my first morning there to go for a walk.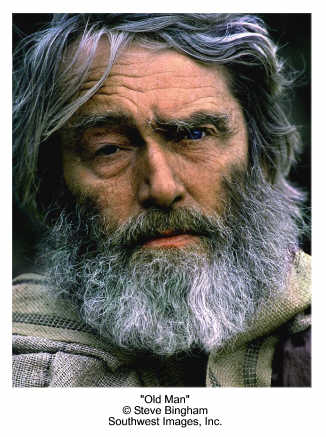 After walking some distance, stopping for a cup of tea, and winding my way back to the apartment, I happened upon an older, homeless man in an alley. He was surrounded by several overstuffed plastic bags, and had apparently spent the night in the alley.
When our eyes met, we held the moment for an unusually long time. I held the gaze longer than usual, hoping he might ask for money — but he did not. His sad, sweet eyes unexpectedly brought tears to my own. I continued walking as I spontaneously said a little prayer for him. As I continued on my way, feeling his sadness, I looked up and was startled to see a well-dressed woman staring at me in a most intense and compassionate way. She smiled enthusiastically when our eyes met, perhaps thinking it was my own sadness I held. I walked on.
Several blocks down the street, as I neared a storefront, I spotted a young man in his late teens just getting up from his pile of dirty blankets. He, too, had spent the night on the street. He looked so young and vulnerable as he tried to pull his shirtsleeves down over his cold hands. As I passed, he looked at me and smiled. I slowed, but he didn't ask for anything either. I came home unable to shake the feeling of sadness for these men and for the imbalance in our world. Yet, all I felt I could do was hold the sadness I was feeling in a reverent, prayerful way. From past experience I know, and have come to trust, this way of holding others. When no other action is called for, this emotional embrace, in itself, can be a gift.
To many, non-action in a situation like this may not make sense. However, sometimes literal "giving" can be a way to avoid the weight of another's burden. The spirit of the moment can ask something different of us, something different from our ideas of what it means to give. Reverently holding the suffering of others can be a moment's greatest offering, and it is a moment many of us often avoid by trying to buy our way out with literal acts of goodness. When one sees the activity of this holding as a formless act of compassion, one goes about it with reverence. Where literal action fails, reverent generosity succeeds by becoming a container able to hold the tears of the world.
The delicate refinement of reverent generosity is one of the loftiest disciplines of embodied life. Reverence is the only appropriate response to the mystery by which we are are surrounded. It requires unrelenting attention. Lao Tsu said, " How great the difference between 'eah' and 'oh!'" The "eah" response to life represents an attitude of indifference, while the "oh!" response represents openness and surprise in the face of an awesome and mysterious universe. One's natural impulse to inspire others with that emotion which reverence has awakened in one's own heart creates sublime beauty in the world. With reverence, the difficulties in life become grist for the mill. Chaos, hopelessness, suffering, even death— everything may be placed on the altar for transformation in the eternal. What comes through may be a sweet word, a gift, a joke, wisdom, or even the use of the sword; inspiration finds a way to undo the illusion of limitation. Inspiration enters the heart through the portal of reverence. With inspiration rippling through the collective, the heart of the world grows unalterably stronger.
We are all potential vessels for such moments, and our participation must be spontaneously born of reverence, mystery, and an uncalculated generosity of spirit. One is able to take outrageous risks when these three elements are in place, and all for the glory of one inspired moment. Without being empowered by the passion and commitment that comes with the heart-inspired, we would never be able to take those risks when we fear we have something to lose. It is only when we discover what we are willing to die for that we come to know and fully embody what we are willing to live for. As dramatic as this may sound, it is often in the quiet, lonely moments of our lives where this inner drama unfolds. It happens by remaining present and being fully with a difficult moment we may not necessarily have chosen to encounter.
Perhaps, most importantly, an abstract element of Grace is needed to tap the reverent generosity of heart we know is possible. One must fearlessly trust in things unseen, things beyond what is known. There are things that have the potential to keep us from acting spontaneously from the heart. They exist in the realm of reason, logic, personal advantage, and security. In this realm, to give is to lose that which has been given. Only an act of reverent generosity can transform and transcend the limits of such a literal fixation. Where there is reverence and a generosity of spirit, the potential of the moment is essentially served and fluidly expressed as creation and form. Here, in the place of Mystery, a life-affirming act of generosity becomes its own reward. That reward is nothing less than renewal and the remembering of essence for all involved. In this way, an act of reverent generosity is healing and happens at all levels — physical, emotional, and spiritual. It carries with it an impulse to share the gift, which is kept alive by the sharing through the dynamic nature of the exchange as it moves through the collective.
There is one last refinement required of reverent generosity, and that is the detachment from goodness. When we know we don't know, we come to see that externally perceived ways of "giving" or "not giving" have equal potential in an act of reverent generosity. When we can be fully in the moment, without ideas, fear-driven impulses, or guilt, we are free to silently ask, "How can I serve the spirit of this moment?" ... and then receive an answer and respond!
Pathways

I see in your eyes
a pathway
through the wilderness of time.
It is light
and it beckons me
back through the ages
evaporating
like an early frost
on the turning leaves.

Moving in unison
with the ardent air,
you return,
flowers in your hand
and moonlight in your eyes.

I am a bandit,
a thief in the night,
trying in vain
to catch this coveted air
only to find
I am bathed in
moonlight.

— Mud
To order Mud's (Steven Weitzman) book of poetry, Landscape of the Misty Eye

or email- EvaandSteven@cs.com

©2007 Pomegranate Seed Productions, used by permission.
---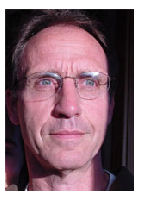 At the age of 29, artist Jerry Wennstrom destroyed all of his work, gave away all of his possessions, and set about living a deliberately simple and profoundly spiritual life. He practiced celibacy for 15 years until choosing to marry his life partner, singer Marilyn Strong. He is the author of The Inspired Heart: An Artist's Journey of Transformation. He has published over 50 essays and interviews, and his life's work has been the subject of Holy Personal by Laura Chester. In 2001, Parabola produced a documentary film called In the Hands of Alchemy: The Art and Life of Jerry Wennstrom. Sentient Publications is distributing a new 3-feature DVD, which includes In the Hands of Alchemy, the new film Studio Dialogue, and The Life and Works of Jerry Wennstrom (1979).
---
Jerry Wennstrom is a regular contributor to Mythic Passages.
Read more of his articles published in this series.
To read more of Jerry Wennstrom
and view his paintings and sculpture please visit his website
handsofalchemy.com
Watch an exerpt of the video, Hands of Alchemy on YouTube
Return to Mythic Passages Menu
Subscribe to the Mythic Passages e-magazine