Mythic Passages Publisher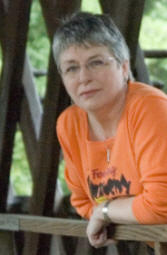 Brenda Sutton is an award-winning singer/songwriter with the internationally reknown band Three Weird Sisters. She works in a support and consultant capacity for the non-profit music organization Interfilk, and maintains their website. She is freelance writer whose work has appeared in newspapers and magazines. She is also the mother of five, grandmother of two.
Brenda is the Corporate Secretary for the Mythic Imagination Institute Board of Directors, and she ran the Institute's main office from 2002 — 2007, helping to organize the Mythic Journeys conferences, and adding content to the Mythic Imagination Institute's website. In 2007 she moved into the Victorian Queen Anne home of her dreams in Danville, Indiana where she continues to work for M.I.I. remotely, spending her "free" time writing, composing, traveling, gardening, helping to run other conferences ... and publishing Mythic Passages.
Brenda Sutton is a regular contributor to Mythic Passages:
---
Return to Mythic Passages Menu
Return to Mythic Passages Archive
Subscribe to the Mythic Passages e-magazine