Fragile Things
Seeking Mythical Coherence in Our
Smoke and Mirrors World

by William Doty, Ph. D.,
William Doty, Ph.D. is Professor Emeritus of Humanities and Religious Studies at the University of Alabama and former editor of Mythosphere: A Journal for Image, Myth and Symbol. Dr. Doty is a prolific writer, translator, and editor who has published more than twenty books and seventy essays in a wide range of journals on topics including religious studies, anthropology, psychology, classics, and art criticism. His best known books include Mythography: The Study of Myths and Rituals, Myths of Masculinity, and Myth: A Handbook.
---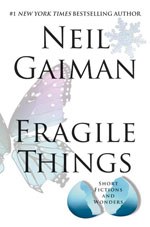 Twice previously in this zine, I have praised highly Neil Gaiman's novels: his American Gods (2001) in 05.06, and Anansi Boys in 02.06. Certainly I would second a Toronto Star reviewer cited in ads for the new book, Fragile Things: Short Fictions and Wonders (just published by Morrow): "Gaiman's work, simply put, is about myths and stories, pantheons and power."
Fragile Things takes us back to American Gods in a sparklingly-new American Gods novella (301-55) as well as twenty-four other pieces of short fiction and creative poetic forays. While previously I have evaluated positively several postmodernist authors such as Thomas Pynchon or Cormac McCarthy, Gaiman's publications seem to me to reach new heights. This volume keeps one shifting from right to left foot, the way he shifts between short fiction pieces to poetic statements.
As I wrote this, I noted in a catalogue a temperature-reporting device that delivers different colors on the monitor of one's computer when there are changes in the weather outside. Beyond the Hugh Contemporary Art volumes, I wonder how one might scope the late postmodernist artistic works: the artist who made robots out of TV sets, Nam June Paik, died in 2006 — what comes after that? But maybe beyond Paik's stacks of video monitors, we switch to fiction and read Pynchon's (Barth's, Coover's, Eco's) postmodernist fictions. Then of course there are the various writers whom I suspect have blown away traditional western literature: T. C. Boyle, Carlos Fuentes, Richard Powers. And beyond them there are the cyberpunk writers, and many of the highly sophisticated speculative fiction writers such as Kim Stanley Robinson, who write in several subgenres.
While I hadn't previously experienced Gaiman's poetic compositions except in the prose poems that underlay the graphic novels in the Sandman series. I like the eight poems in this volume so much that I chose to read "Going Wodwu" in a marriage ceremony. The volume shows us Gaiman as one of the extraordinarily-creative voices of our generation, a sort of William Burroughs or J. G. Ballard in our own day, echoes of Blade Runner and of course behind that, Philip K. Dick's probably never-to-be-surpassed creativity (teaching Dick's "Minority Report" [1956] this week, along with viewing Spielberg's film adaptation (2002), I cannot help but wonder what would have come alive had the two of them produced a cooperative work).
The collection begins with "A Study in Emerald," a very bravura riff on Sir Arthur Conan Doyle, whose Sherlock Holmes is about as mythical in our culture as any other fictive figure. It starts when the latter reads where Watson has once been, on the basis of clues in his outward appearance. Wounded, indeed tortured, in Afghanistan, shattered by the bite of a leech of horrific proportions in an underground lake (decensus ad inferos, the mythological underworld journey).
There is an archetypal recognition as Holmes admits Watson into an intimacy he has found seldom. "I have a feeling that we were meant to be together. [...F]rom the moment I clapped eyes on you, I knew I trusted you as well as I do myself" (6). The story is epigraphed by supposedly-Victorian advertisements for various rejuvenating devices and nostrums: anyone aware of the ridiculous promises of twentieth century TV ads will recognize the rhetorics, and the epigraphs are precisely as vapid as the later ads.
The archetypal hero, Holmes knows more than others: the significance of a term written in blood, German Rache, English revenge!-which the poor Lestrade can only sequence as a woman's name, Rachel. She would indeed have been of royal blood-leading them to the palace, where, in a lovely magical/faerie touch, Queen Victoria touches the doctor and his wound begins to heal. At the end of the short story, we realize that the perp had been a stand-in for Albert Einstein.
In "October in the Chair," that is to say the acting chair, with the other eleven Months on the committee stand around the fire roasting enormous sausages on sticks. One of them knows of an airport baggage handler who can see from the shapes of passenger's bags when they will die.
Anyone teaching speculative fiction realizes quickly enough that the old genre/subgenre distinctions, such as those between science fiction, fantasy, and folklore are now almost useless-except to bookstore marketing. "Forbidden Brides of the Faceless Slaves in the Secret House of the Night of Dread Desire" is a good example: we have here a fusion of speculation and fantasy, a side-by-side of menacing ghouls, an apparently-live body that putresces in front of the female protagonist-and a hilarious note that pops up across the story. Having sworn to bring the ghouls brides, Amelia hears one voice hissing: "Yes, and do you think we could get her to throw in a side order of those little bread roll things?" (60).
After (Poe's?) Raven speaks with the realist writer, who changes his writing style, moving on suddenly to the bedsitter's breakfast question "Do you want your eggs scrambled or boiled?" And in sharp contrast to the crypt, Amelia makes dark whole wheat toast in the one slot of an electric toaster that still works (62-63). As with several others of these stories, there are clearly gothic shapings, with a bit of High Faerie, but just as frequently references to "a very, very old pornographic magazine" ("Closing Time," 73) and indeed the F-word in a joke that nearly gets a young lad expelled from school (7).
---
This 2006 volume led me to Gaiman's 1998 collection, Smoke and Mirrors: Short Fictions and Illusions (HarperCollins), which is likewise full of amazing literary/imaginative creativity. We have stories within stories, a salvific cat, a youth on a quest, a magical jack-in-the box that is still waiting to open only to children and will wait forever.
In "The Goldfish Pool and Other Stories," the author of a documentary script on serial killer Charles Manson is shuttled across L.A. (where any one location is always 30 minutes from another) to work on a new concept statement. Anyone met at one meeting is replaced by another the next, and the film people all want him to cut the Manson figure from the film. Here there are mirrors and mirrors, and reflecting pools, and in general a trashing of the film industry, where no one ever condescends to read an author's original novel.
"Looking for the Girl"-originally written as soft porn for Penthouse in 1985-traces a photographer's quest for a beautiful woman model who has apparently suspended the aging process, while the photographer himself grows wizened. "Only the End of the World Again" is one of several that bring apocalyptic themes to bear, in this case a story thickened by the theme of lycanthropy (transformations between human and wolf), the Tarot, and human sacrifice. In "We Can Get Them for You Wholesale," a frustrated lover contracts first to kill his lover's lover, then her, then eventually the whole world, for a bargain (himself, alas, included at the end).
"One Life, Furnished in Early Moorcock," is a paean to Gaiman's early literary hero Michael Moorcock, but also to C. S. Lewis (references to the Narnia cycle) and other fantasists. The head of the subject, Richard, "swam with religions." The schoolboy combines elements of Judaism, the Church of England, the Lords of Chaos, the Phantom Stranger from DC Comics, Buddhism, "and all the things from the [Andrew] Lang colored Fairy books: in which all mythologies existed simultaneously in a magnificent anarchy of belief" (219).
"Chivalry" has perhaps the highest number of mythic references: a woman discovers the Holy Grail at a thrift shop; Galahad (here: Galaad) appears on his quest for the Grail with an identifying scroll from King Arthur. He offers in exchange a Fabulous Sword, then the Philosopher's Stone, and the Egg of the Phoenix and an Apple of the Hesperides. The woman accepts the last two, but when shopping on another day decides not to pay sixty pence for what is presumably Aladdin's Lamp.
There are some issues for an American reader with this earlier volume: Gaiman leaves behind British usages only after moving to the States, and occasionally the stories and poems are so extraordinary that the denouements are just not clear ("Mouse" in particular). But then who else would dare to set a story in heaven, a creation story in which angels duke it out? Or to craft a folktale today?-"Snow, Glass, Apples," read at Mythic Journeys 06 in its version as a tale for radio theatre, and concluding Smoke and Mirrors.
But if this is Gaiman's anarchy, beware, because in his introduction, which marvelously relates the occasion for each story and poem-as in the later volume as well-he provides a brilliant anti-fundamentalist statement: "I like to think of this story as a virus. Once you've read it, you may never be able to read the original story in the same way again" (32). "This story" is specifically "Snow...", but the perspective both underlies the affective quality of stories ("virus") and their mutability. Gaiman's huge output of writings has ratcheted up the contemporary continuation of the folktelling tradition, that of fantasy and SF, and the best of the postmodernist fictioneers.
---