The Friendly Guide to Mythology:
A Mortal's Companion
to the Fantastical Realm of
Gods, Goddesses, Monsters, and Heroes
by Nancy Hathaway

Review by William Doty, Ph. D.,

William Doty, Ph.D. is Professor Emeritus of Humanities and Religious Studies at the University of Alabama and former editor of Mythosphere: A Journal for Image, Myth and Symbol. Dr. Doty is a prolific writer, translator, and editor who has published more than twenty books and seventy essays in a wide range of journals on topics including religious studies, anthropology, psychology, classics, and art criticism. His best known books include Mythography: The Study of Myths and Rituals, Myths of Masculinity, and Myth: A Handbook.
---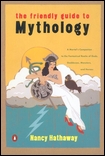 While I have to confess that the title of this book initially kept me at bay, sorta like Mythology for Dummies, I guess, my end-take was that it is the sort of book one would love to come across in a summer cabin, or on a long trip by boat from one to another continent. It would murmur politely, surprise often, and if heeded attentively (make notes!), it can be a source of a great deal of mythological information, compressed and boxed though the information is, across its 425 pages.
Beyond the title, a careful study of the Table of Contents provides an orientation. The first part moves from creation to apocalypse, and manages to include flood myths, tricksters, and the life of Hesiod, the role of Snorri Sturluson, and "a bit about stones." Part two treats goddesses from Amaterasu to the Zorya, with a few pages on the history of mythography (Müller, Frazer, and Harrison). In part three, the Greek world receives the greatest coverage of any ethnic group (129 pages), with "Heroes" receiving seventy-six pages of coverage. The glossary, "A Compendium of Gods, Goddesses, Monsters, and Mortals," is wide-ranging over its fifty pages.
Some of the really useful factual knowledge is packed into a number of boxed materials throughout the book, beginning with "Marduk: A Chronology," and continuing with lists of the sources of the Icelandic Eddas, the Maya Popul Vuh, Hindu Mythology, Celtic Mythology, a list of the Greek Titans, a list of eight who journeyed to the Underworld, of incidents involving the Egyptian Eye of Ra, a bit-story of "How Ganesha Lost His Tusk," summary portraits of the Greek figures and the associations with the Nine Muses, a listing of metal smiths around the world, Rilke's take on Orpheus' loss of Eurydice, the backstory of the Golden Fleece, and the ten incarnations of Vishnu. And even in the Glossary, "Some of Brahma's Children" and "The Five Mythical Invasions of Ireland" are to be found. The eleven-page bibliography is comprehensive for titles published through 1999.
As with the marvelous volumes by Donna Rosenberg, the mythic tales are mostly retellings, although there are a number of quotations, boxed. I sometimes wondered at the editorial sequencing, although of course it is a problem that faces anyone who takes on so wide a spread of world mythology. Why discuss Hesiod and Snurluson after tricksters, and then turn to the chapter on goddesses? Or why discuss Celtic mythology in the Heroes chapter? Probably not an issue for those using the work as a look-it-up book on individual figures, and the index seems competent—although it would have been more helpful if more topics with many references were themselves indexed—Homer, for instance, receives twenty undifferentiated hits.
Some of Hathaway's emphases are excellent: in the box entitled "If Not Green Cheese, What?" for instance, we are exposed to a wide range of explanations of the origins of the moon, and she doesn't shirk the fact that some nine "creation" myths were defended across ancient Egypt.
At sixteen bucks list, even given the cheap acidic paper printing, one has here a handy companion to a number of aspects of world mythological traditions, although somewhat short-sighting Asian, African, and Oceanic traditions.
Works Cited:
Rosenberg, Donna. 1994. World Mythology: An Anthology of the Great Myths and Epics. Lincolnwood IL: NTC.
Rosenberg, Donna. 1997. Folklore, Myths, and Legends: A World Perspective. Lincolnwood IL: NTC.
---