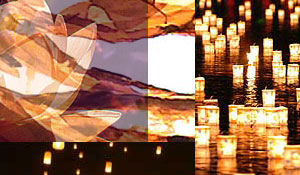 Edie Morton is a talented artist whose light sculptures will be featured in the Thurday night Mothers of Myth banquet. View some of the art that will be on display.
Edie Morton takes an alchemic approach towards combining and transforming organic materials into medicine objects. Her studies include painting and sculpture while in New York and Italy as well as certification in massage therapy and Reiki. She has integrated her background of holistic healing and the fine arts into paintings, luminaries and sanctuary spaces.
Primitive and weathered artifacts are woven into aquatic, womb and pod-like forms becoming luminaires. They remind us of the beauty of imperfection and the cycles of life, containing evidence and appreciation of the ancient Japanese aesthetic wabi-sabi. Her encaustic paintings are a combination of beeswax, resin and pigment. These luminescent, ethereal dreamscapes are the result of many layers of wax, each layer fused to the next by a heat source.
Sanctuaries are installations created as nurturing, tranquil and inspiring spaces to escape sensory overload. The mission of these alternative interiors is to provide a refuge from toxic mass-produced environments.
These dramatic healing spaces are brought together by elements that come from the earth and return to the earth without harm to the environment. They range in themes from outside in, Zen minimalist to a Moroccan cocoon.
Visit Edie Morton on the web
Return to Participant List