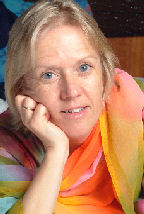 Orla Melling was born in Bray, Co Wicklow and emigrated to Canada with her family when she was five years old. Growing up in Toronto with seven sisters and two brothers, she returned often to Ireland for Irish dancing competitions. She was North American Junior and Senior Irish Dancer and later taught dancing. She graduated with Honors from Trinity College at the University of Toronto with a B.A. in Celtic Studies and Philosophy and an M.A. in Medieval Irish History. A lover of travel and adventure, Orla hitch-hiked across Canada and throughout California. On a youth exchange programme with Malaysia she lived among the native peoples of Borneo and climbed Mount Kota Kinabulu, the highest mountain in South-East Asia. Her very varied lifestyle continued with a spell as Lieutenant in the Canadian Naval Reserve where she became the first-ever female training officer of new male recruits.
Orla is the author of The Druid's Tune, The Singing Stone, The Summer King, The Light Bearer's Daughter, The Book of Dreams, My Blue Country, and . The Hunter's Moon, which won the Rith Schwartz Children's Literature Award (Canada) 1994 and was shortlisted for the Young Adult Book of the Year Award 1993 of the Canadian Library Association. She has also written Falling Out of Time, which she describes as "my 'adult' mythic fantasy (of) sex, drugs and rock'n'roll with archetypes." Orla has been Writer in Residence at Ireland's Tyrone Guthrie Centre for the Arts, Denmark's Orslev Kloster, and India's Auroville. She reviews books for magazines such as Books Ireland and for The Irish Times and is on the Arts Council list for school and library visits.
Orla resides in Bray, Co Wicklow, Ireland with her daughter Findabhair.