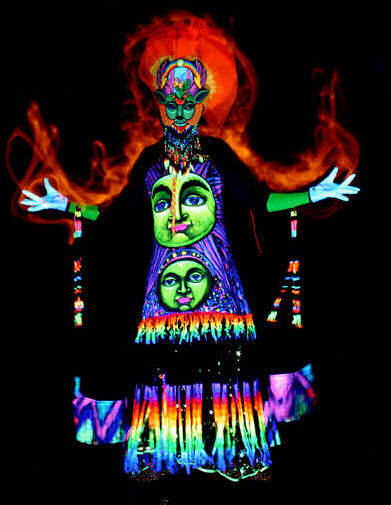 ArcheDream for HUMANKIND presents an original and fantastic dance show in black light masks and costumes of archetypal characters in the tribal vein. ArcheDream offers two kinds of shows: theatre dramas entitled OneDream, Balance and The Poet's Dream; and club based EPISODES with DJ's, multimedia, and special effects.
Alan Bell and Glenn Weikert founded the black light dance company ArcheDream in June of 2000. In addition to social outreach, ArcheDream's mission is to employ and support the growth of young artists and give them an environment and sustainable work to launch their further experience and careers. South African born Alan Bell, is artist behind ArcheDream. He has spent two decades developing his black light masks, costumes and painting techniques. Alan lived in Amsterdam, Holland for 20 years.
Originally performing as ArcheDream, shows have been performed in Amsterdam, Prague, Naples, London, South Africa and various venues in the United States. The US division was born from a partnership with Glenn Weikert; DJ, producer and multimedia artist. Glenn was born in Harrisburg PA, graduated with honors from the Art Institute of Philadelphia and is the writer/director of OneDream and BALANCE as well as being the lead dancer in The Poet's Dream. They met at the 2000 Winter Music Conference in Miami and are presently touring the United States. Check www.ArcheDream.com for more information on schedule, masks, costumes and inspirations.
ArcheDream uses archetypal characters that perform allegories, or dreams, to personify vital issues pertaining to our lives. Psychologically speaking, an archetype is a primordial mental image inherited by all. For example, personifications of Anger, Death, Love, War and Peace all play their part in our visions of life. ArcheDream's costumes are illuminated with ultra-violet light, which accentuates the supernatural aspect and reveals the dreamscape as the action unfolds.
ARTIST BIOS
Alan Bell - Co-Founder / Artistic Director
South African born Alan Bell, is the artist behind ArcheDream. Growing up in the Age of Apartheid, he resolved to find an art form that would unify the racially divided audience in an ecstasy of wonder. While dedicating himself to the medium of blacklight for over two decades, Alan discovered a way to bridge his African roots with his European inheritance. Originally performing as Dream Theatre, the first production debuted in Naples, Italy 1996. Alan lived in Amsterdam, Holland for 18 years and is a graduate of the Johannesburg College of Art. He is committed to the enrichment of culture through delightful, profound and unforgettable art. Alan writes children's plays for the Princeton Montessori School and he writes children's music for a CD series called Kaleidoscope Songs with Alex Mitnick (www.kaleidoscopesongs.com). Alan helped Emily Nussdorfer establish Girl's of Promise, a Philadelphia art and enrichment program for adjudicated inner city teen girls, and he is also artist in residence at the RHD Ridge Avenue Homeless Shelter for men in Center City Philadelphia.
Glenn Weikert – Co-Founder / Executive Director
Glenn Weikert is an award winning digital media designer, DJ, dancer and electronic music producer. Glenn grew up in Mechanicsburg PA, served two years in the Navy, earned an Associates of Communications from Harrisburg Area Community College, studied German in Heidelberg, Germany. He then worked and traveled abroad before returning to the United States to graduate with honors from the Art Institute of Philadelphia. Glenn was awarded best portfolio of his graduating class and began focusing on ArcheDream upon completion of his studies. In addition to being the lead dancer in the Poet's Dream, Glenn produces electronic music, sings and choreographs for a new series of ArcheDream productions. Glenn and Alan are also the founders of ArcheDream for HUMANKIND, a 501(c)(3) organization dedicated to HIV/ AIDS education through art, performance, theatre and music. Glenn, Alan and their partners here in the United States and in South Africa are making steady progress towards launching the HUMANKIND Roadshow in the Gauteng Province of Johannesburg, South Africa. In the six month pilot program, an international crew will train for two months and then travel with a big top tent to ten locations over a four month period. During the day, the tent will be utilized by partner grassroots organizations to run workshops, clinics and seminars. In the evening, the main event; a celebration of life will occur featuring comedy, music, dance and theatre addressing the HIV/AIDS epidemic.
J'Alvin Chestnut – Dance Master
At the age 17, South Carolina born J'Alvin Chestnut traveled to Italy with a dance company and refused to return. J'Alvin was accepted to the National School of Performing Arts in Westfallen, Germany and after two years of study at the Volkwang Schule he won a scholarship to study at the Paris Opera Ballet. His professional career began with dance companies and opera houses throughout Europe. In 1985, after acting in the film Enemy Mind with Lou Gosset Jr. and Dennis Quaid, J'Alvin was contracted to do conduct classes at the University of Nairobi in Africa. In 1996, he returned to New York where he continued to teach classes at commercial dance studios. Ballet Master J'Alvin began mentoring the performers of ArcheDream in 2004 and is a vibrant source of inspiration and creativity.
Visit ArcheDream on the web
Return to Participant List