---
November 2007
Find myth- and Mythic Journeys-related events on our
Annual Calendar
November 1 — Lha Bab Duchen
The Excellent Time of Descent from the Realm of the Gods
Corresponding to the 22nd day of the 9th lunar month
November 1 — All Saints Day
In an attempt to replace the popular pagan festival of Samhain, the Catholic church moved the celebration of All Saints Day to November 1. The celebration began in the fourth century as a day to honor all Christian saints, especially those martyrs whose names were unknown or saints who do not have a day of their own.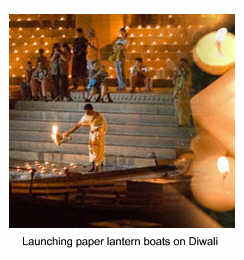 November 9 — Diwali
(New Year & Festival of Lights)
India, Hindu
Also known as Dipavali, this holiday marks the beginning of the Hindu new year. Diwali is celebrated for five consecutive days in the Hindu month of Ashwayuja. The exact date varies from year to year, depending on the Hindu calendar, but it usually takes place in October or November. (Diwali Calendar) It is one of the most popular and eagerly awaited festivals in India. Hindus, Jains and Sikhs alike regard it as a celebration of life and use the occasion to strengthen family and social relationships. For Jains it is one of the most important festivals, and beginning of the Jain year, celebrating when Lord Mahavir (whose name means "Great Hero") at age 72 attained Moksha (absolute freedom) and his purified soul left his body, achieving complete liberation. He is now a liberated soul, living in state of complete bliss forever. Hindus celebrate it as the day when Rama returned to his people after fourteen years of exile. While in exile, Rama conquored the King of Demons, Ravana, and his army. People light their houses in rejoicing for this victory of good over evil.

On the fifth day of Diwali, married women and daughters traditionally return home to honor their brothers. The brother sits on a low stool around which the sisters draw decorative designs on the floor. A ritual is performed wherein the sister throws grains of rice on her brother's head to wish him a long and safe life. He is waited on and brought gifts of food. He in turn presents his sister with a gift on her serving tray. When a family has only sons, the mother of the house often invites a niece or the daughter of a friend to stand in as "sister", developing a familial relationship that often lasts for life.

In preparation for the festival, people pay off their old debts, purchase new clothes, and clean their homes. The exterior of houses are whitewashed and often decorated with designs drawn in white rice flour and filled in with bright colors. Buildings are traditionally lit with bowls of burning oil called dipa (or, more recently, with strings of electric lights.) One the first day of the festival, prayers are said. A special breakfast of fourteen different foods is served and eaten. The goddess Lakshmi's statue is carried in procession through the streets. Children are adorned with head wreaths of flowers and ankle bells. This is another occasion for eating sweets and gifting toys, but one of the more interesting customs occurs at this time. Young boys craft castles made of mud which are displayed to visitors and guests. The evening culminates with fireworks. Those who live near rivers send out lighted model boats on the waters.
November 11 — Veterans Day
United States
November 22— U.S. Thanksgiving
November 24 — Full Moon
The Britons called this the Hunters Moon. Native Americans called it the Beaver Moon. It is also known as Frost Moon, Snow Moon, and in India it is celebrated as Kartik Pornima.