---
January 2008
Find myth- and Mythic Journeys-related events on our
Annual Calendar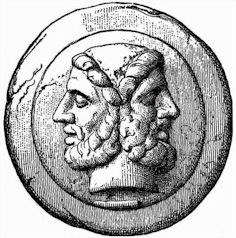 January 1 — New Year's Eve
Ruler of new beginnings, gates and doors, the first hour of the day, the first day of the month, and the first month of the year, the Roman god Janus gave January its name. He was pictured as two-headed (both heads bearded) and situated so that one head looked forward into the new year while the other took a retrospective view. Janus also presided over the temple of peace, where the doors were opened only during wartime. It was a place of safety, where new beginnings and new resolutions could be forged, just as the New Year is a time for new objectives and renewed commitments to long-term goals.
See Janus, Custodian of the Cosmos from the January 2006 issue Mythic Passages
January 5 — Twelfth Night
England
Twelfth Night, the eve of January 5, is in English folk custom the end of Christmas merrymaking and in ancient Celtic tradition the end of the 12-day winter solstice celebration. On Twelfth Night, it was customary for the assembled company to toast one another from the wassail bowl. In Old English, wassail means "Be in good health," but the term also was applied to the drink itself (usually spiced ale).
January 13 — St. Knut's Day
Sweden
St. Knut, more commonly known as King Canute IV of Denmark, ruled Denmark from 1080 to 1086 and claimed the throne of England. He issued laws to protect the weak, orphans, widows, and foreigners, tried to enforce the collection of tithes, and is honoured as a saint for his virtue and generosity. Martyred in St. Albans Church in Jutland during a peasant uprising, his death is seen as the end of the Viking Age.

King Knut proclaimed that Christmas should last for 20 days. In Sweden his feast day is the traditional day to discard the Christmas tree and end the season's festivities. A children's party is the favored way to strip the tree of its decorations, after which the children are free to "plunder" the edible treats and small gifts placed on the tree especially for the occasion. Finally, everyone "dances" the tree out the door. Singing special songs, they pick up the tree and toss it out into the snow. Swedish children look forward to this dancing-out party almost as much as Christmas itself — and what better way to combat the post-Christmas blues?
January 22 — Full Moon
The Britons called it the Old Moon. Native Americans called it the Wolf Moon. It is also known as the Ice Moon, and in India it is celebrated as Paush Purnima.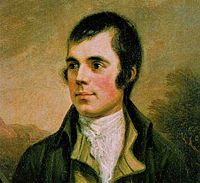 January 25 — Burns Night
The birthday of Scotland's most famous poet, Robert Burns (1759 — 1796) has become an occasion for Scots all over the world to gather together and celebrate with traditional food and Scottish poetry. What else would one sup on at a Burns Night feast but haggis? The dish is made from the minced heart, lungs, and liver of a sheep or calf combined with suet, onions, oatmeal, and seasonings. If you are not a haggis fan, try some Scottish Shortbread with a drop of a fine peaty singlemalt to honor Robert Burns. Read all there is to read by Robert Burns, poetry, songs, and much more, at robertburns.org.